Whilst Peter was in Wellington, Maxie went back to honing her escapology skills. She managed to push her way through the wire early one morning. Ann closed the gap with wood before going to school, and then found Maxie waiting in the car for her!!!. Back into the dog run and close up the next hole.
The following Saturday Ann and Peter were woken by the sound of paws running around the deck outside the bedroom. Maxie had taken up tunneling this time and dug under the wire - she gets full marks for persistence!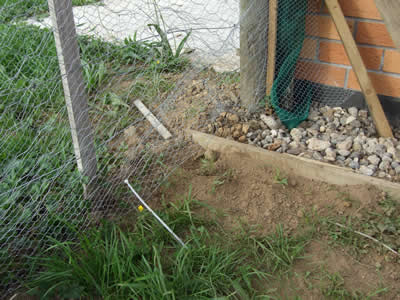 Maxie's Diary
Thursday - got out into the paddock overnight but they found the hole in the wire - damn. I'll have to make another one tonight.
Friday - bugger, they caught me outside the wire - on bread and water now.
Friday night - new plan - this time I'll dig under the wire of the other fence.
Saturday - oops - got caught again! Have to think of a new plan!
Sunday - managed to get through the wire into the garden.
Monday - they've found the hole in that fence now. Have to go back to plan B.
All this time Jaz was around but didn't try to escape at all! Of course as Jaz only has one thing on her mind her diary would be very short.
Monday - saw a rock - wonder if I can eat it?
Tuesday - found a dead bird - perhaps I can eat it?
Wednesday - passed a smelly old boot on our walk this evening - do you think it's edible?
Thursday - spied a rabbit - can I eat it?
Friday - saw some flowers on the roadside - can I eat them?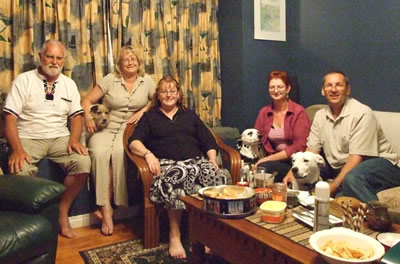 On New Years Eve we went round to Dianne and Noel's for a BBQ. Unfortunately the rain also decided to come when Noel was cooking.
Jaz managed to disgrace herself. Whilst we were inside eating, she disappeared into the rain, Peter found her munching on a rabbit that Dianne's cats had killed. Ann was not impressed!!